Chamber of Commerce Brazil Iraq reinforce Brazil's relations with Turkey
(Português) CCIBI - 20/12/2019
The Brazil Iraq Chamber is developing new business opportunities for Brazilian companies in Turkey. The initiative goes hand in hand with the work of approaching the Brazilian market with the Iraqi market.
Executive Deputy Mayor Jalal Chaya met Serkan Gedik in Sao Paulo, speaking about business opportunities. Initially, the work will identify Brazilian product suppliers that meet Turkey's needs. "The first segment we are going to look for is clothing and textiles," says the executive vice president.
The Chamber's approach to Turkey's interests in Brazil is natural.Currently, Iraq's largest trading partner is Turkey. "Some of the live chicken and chicken shipments, for example, are made by Mersin to serve northern Iraq," Chaya explains. "The use of this important Turkish port and the presence of turkish businessmen  operating in Iraq bring the two countries closer together and Brazil itself, which can increase their spending in the region, "he says.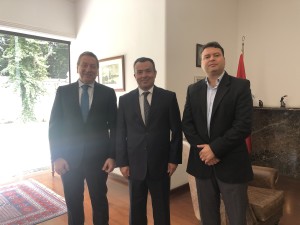 Compartilhar: